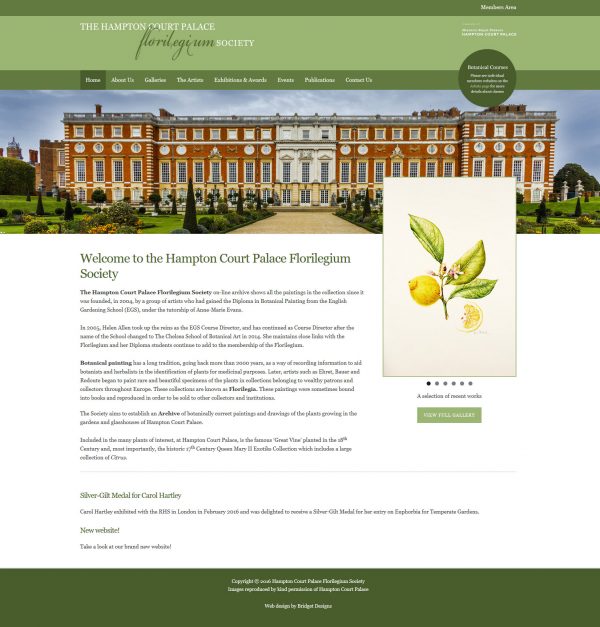 Hampton Court Palace Florilegium Society
Portfolio Website

Custom design and development
Wordpress CMS
Dynamic Galleries
Artist Biography Section
Private Member's Area
Project Details
Hampton Court Palace Florilegium Society, was founded, in 2004. It aims to establish an archive of botanically correct paintings and drawings of the plants growing in the gardens and glasshouses of Hampton Court Palace.
They came to Bridget Designs in need of a update and modernisation of their existing website which the previous developer was no longer able to maintain for them. The challenge was to clearly show the considerably number of beautiful drawings, going back many years, in a clear and organised manner that credited each artist. They also wanted a private members area where members could access useful information privately.
The first task was to sort the images into year, artist and plant name groups, a huge task in itself. I then created galleries for each year, tagging each image in those galleries with the artist and plant name, so dynamic galleries based on this information could also be made. As a result it is possible to search by year, artist or plant type on the website, making it clear and effective to use.
To give the artist full credit there is also an Artist's bio section with links to their own websites, plus a members area and a detailed search function as well.
The design is formal but modern, with a monochrome palette that allows the images to be the starts of the show.