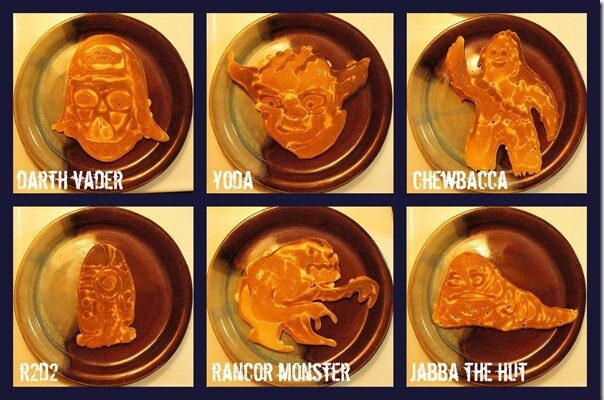 Happy pancake day! Before you get your batter ready and start practising that flipping technique… check out these geeky takes on the classic pancake! then if you are feeling inspired there's a tutorial on making your own awesome creations. Happy flipping!
Awesome Lego Pancake Machine!
Amazing pancake making robot created entirely from lego pieces and one ketchup bottle! See the amazing invention in action below:
http://www.geek.com/articles/geek-cetera/pancake-making-robot-is-awesome-made-out-of-legos-20110724/
Star Wars Pancakes!
Forget your plain circle pancake, make pancake art! Check out these wonderful Star Wars themed pancakes plus many more amazing designs!
http://www.wired.com/geekdad/2012/05/pancake-geeks/
Pancake Art
Taking the humble pancake to new levels, Jim's Pancakes creations have to be seen to be believed.
Make your own geek pancake art!
If you are feeling inspired here's a tutorial on how to make your own!
http://www.giantfreakinrobot.com/sci/geek-pancakes-smart-art.html