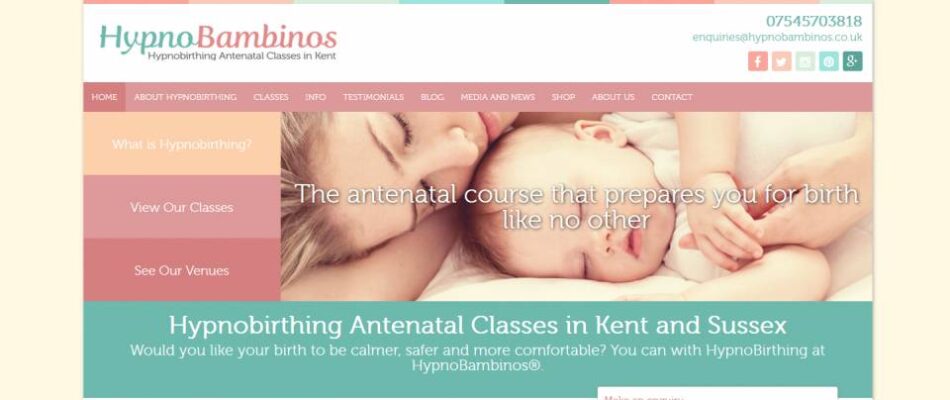 ypnoBambinos is a leading hypnobirthing specialist based in Kent. Their existing website was adapted from a third party template and never quite fitted what they wanted it to do. After many attempts to customise it to fit their business, they decided to star fresh with a custom website designed and built specifically with their needs in mind.
Project goals
The main goal for the site was to promote HypnoBambinos' antenatal classes, to show clearly what course they offer and the different venues they are held at, with a simple way for customers to find this information and then get in touch to book classes. They also wanted a blog, a press page and a way to get across a lot of information clearly and attractively.
The felt their old site didn't show the main work that they did and didn't have a call to action or a natural flow through the site. I designed the site to draw focus to their central antenatal program from the front page, right through the site. The home page slideshow with large side links immediately leads users to the relevant sections and the page architecture leads uses through information pages explaining what hypnobirthing is and who it is for to details of the classes and venues themselves and how to book.
Design focus
As their target audience is predominately women they wanted the site to have a feminine feel, but without being overly girly. The colour scheme is a gentle, complementary range of pinks and blues that work well with the soft baby photos on the posts.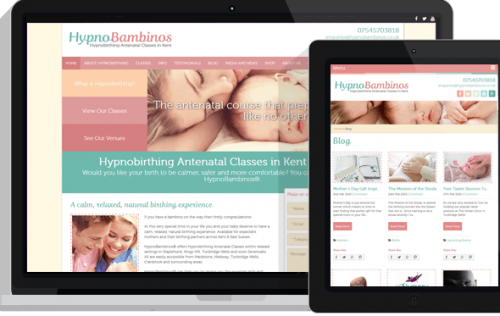 Easy admin interface
As HypnoBambinos wanted to be able to update their website on a regular basis themselves easily, the admin section needed to be intuitive and designed in a way to make it easy to update information while keeping the layout uniform. I designed a simple to use system of custom post types in WordPress that allow them to add individual classes, venues, testimonials, directory entries and blog posts separately in the admin section, all with their own individual page styles on the front end, that best suit each different topic.
The class / venues systems are linked so each venue is linked in the admin section to the classes held there and vice versa. This enables customers to quickly and easily find the course they are looking for in their area.
The testimonials section is divided into two sections – testimonials and birth stories, to give the reader a full picture of how HypnoBambinos has helps them.
The blog is separated into categories, and the media category has its own separate page which acts as a press page.
Technical details
The site is responsive, to allow users on any device to browser the site easily. The code is hand written HTML5 code to W3c standards. It also features responsive images galleries, an affiliate shop and a business directory.