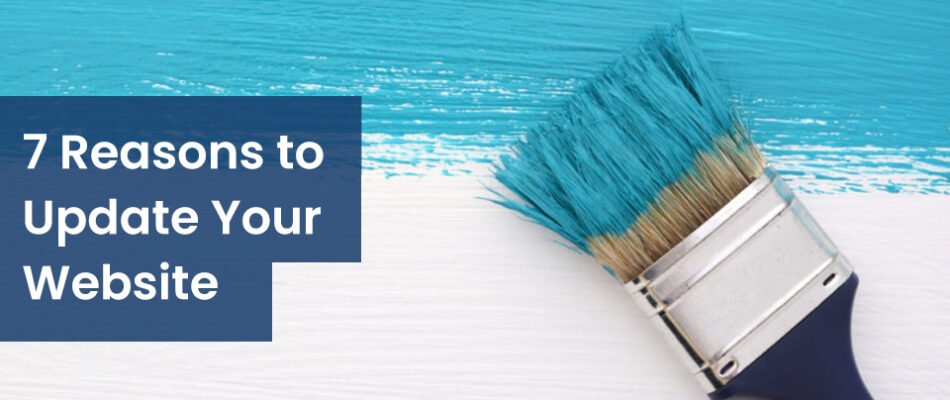 How will updating your website improve your business?
Your old website served you well. But is it truly doing the job it should? The beginning of the year's a great time to check that your website is fresh, fast and relevant for today's world. If it's not, then a professional designer can find the unique style and voice of your company. Visitors will be more likely to find, love and stay with you if you do.
1. Modern Website Design
Websites with stale, old designs don't impress. We live in a visual world, and however good your business, an old, 'off the peg' site will make you appear stuck in the past – or worse, that you don't care.
Modern websites have the scope to be creative and individual. Using a template has its place, but a professional web designer will create a site that does exactly what you need: establishing you as an individual company and helping the user experience of your visitors. In fact, they will lift you above the crowd. Take the time to check out your competitors' websites. And then be honest: if you were a new client, would you choose your site? If not, then it's time for a designer to find the unique style and voice of your company.
Bridget Designs offers a complete web design service, get in touch with us today to discuss what we could do to help you.
2. What is your Business NOW?
No business is static. They change over time: new products and services, new staff, new aims. Even long-established old companies update their fonts and logos from time to time. Modernising your website ensures it reflects what your business does TODAY. Nothing is more frustrating than clicking around a site with incorrect or irrelevant information. It wastes time, looks unprofessional and visitors will quickly leave. When that happens, you not only lose a potential customer, it affects your SEO. In fact, it may be that you decide your business's site could do with a total revamp, with a fresh, personally designed new logo and colour scheme to place it where it should be – firmly ahead of the field.
If you are thinking of getting a new logo, take a look at our logo design process and get in touch for more information.
3. Ready for Mobile Browsing?
Mobile browsing overtook desktop browsing over two years ago. However, not all websites are designed to look good on a phone. To reach busy visitors on the move, you must ensure that yours does! You can easily check out for yourself what it looks like. If you're unsure, contact a good website designer to discuss what can be improved.
4. Content is King
Words matter, and so does a well-written website. It's a skill to ensure you are giving the right information in the right tone to the right people. If you're feeling ready to update your site, consider who your customers are. Are you inclusive? Are you clear, approachable, professional? Do you have a consistent and relevant tone? Used well, Key Words and good headlines grab attention. Used badly, they are clunky and unattractive. A good copywriter can ensure your content promotes you, and doesn't let you down.
Bridget Designs offers a selection of content writing services to help you set the right tone for your business.
5. Fast, safe, secure!
Your site must be secure. When did you last check security? Your visitors need to be safe, too. A good web designer will take this into account, taking the worry away and making sure you're aware of legal expectations. The good news is that they can also speed things up – improving user experience and showing you are a modern business that cares.
6. Search Engine Optimisation and User Experience
Is your site optimised for SEO (Search Engine Optimisation)? Is it giving your visitors excellent UX (User Experience)? These two vital aspects of website success can't happen on their own. Updating your website is an opportunity to make sure it flows, helping visitors easily through each section. You can also talk to your web designer about SEO, optimising the best way to be found.
7. Looking Forwards – Measuring Success
So, you're already considering updating to a modern, professional website, that looks amazing, individual and creative, and is also error-free and relevant with well-written content that flows. So it's a bonus that once you've got more people looking at you, you'll also be able to access more modern and useful tools to measure how effective you are online – improving even further your chances of business success this year.
You have literally just seconds to engage with visitors to your site. Why should they stay looking at a dated site that suggests you don't care about them?
Bridget Designs takes pride in creating bespoke websites that are high quality, distinctive and effective. Make a wise investment, and make 2019 the year you update. Your site will not only look amazing and reach as many visitors as possible, it will persuade them to love and stay with you, too.
If you would like to discuss how we could help bring your website up to date and give it that wow factor, contact us today.
To Summarise:
Bespoke designs make you stand out from the crowd
Your site should reflect who you are NOW
A new design will be secure, faster and mobile compatible
Updating your content will improve User Experience and SEO
If you feel your site needs an update, get in touch without obligation to see how we can help guide you through the process.
https://bridgetdesigns.co.uk/my-step-by-step-web-design-process/